Welcome to WWW.Skyimager.Com
Twinoaks Observatory
( N 34°:55':34.98" W 81°:04':23.76" )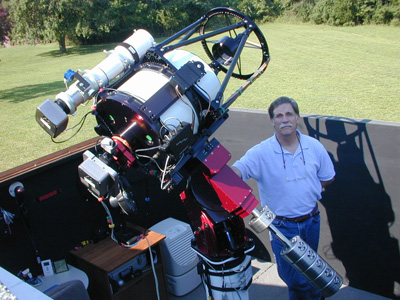 (Click on image for Full Resolution)

My Twinoaks project started as an idea in April of 2000 after I carried all my equipment back into the house and lost yet another hour of sleep. I found that not only was this creating wear and tear on the equipment, but me as well. I started my research on the internet and found a wealth of information there, as well as, people who were happy to offer advice and share their experiences. This website will try to add to that information and hopefully help someone else decide to enjoy this wonderful hobby.

I started imaging in May 2000 and have been adding equipment and hopefully improving my skills with each outing. I have found that no one scope fits all situations, so I have a variety of scopes that fit the constantly changing sky conditions of the mid-Atlantic states. I have always been interested in computers (Electrical Engineer) and have enjoyed using and watching the internet evolve. This medium has given us a grand tool for expanding this hobby like never before. By sharing images and techniques, we all become better at what we strive to do.

I hope you find something useful and/or enjoyable while you're here. Please feel free to comment, as this helps me make the site better. Thanks for visiting.

You are visitor #




Site activation
Jan 20, 2001
---
Most recent revision: December 3, 2022
Copyright © 2001-2023 TwinOaks Observatory
All Rights Reserved. No Pictures may be used or reproduced without the permission of the author.
For questions/comments about this Web Site, email: